Newsletter n°62  25/03/2023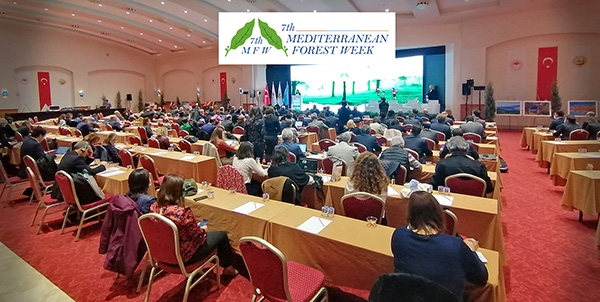 ‍

In Antalya to discuss the future of Mediterranean forests



‍The seventh Mediterranean Forest Week (MFW) took place on 21-25 March 2022 in Antalya, Turkey and was dedicated to "Forest and ecosystem restoration for the next Mediterranean generations".
The week started on the International Day of Forests with a speech by Florence Lacrosse representing the youth across the Mediterranean. Working not "for" but "with" future generations. This was the first key message, followed immediately by an acknowledgement of the importance of wood-based products in reconnecting people living in cities with forests and nature. The third point is communication: the climate crisis, the biodiversity crisis and many other crises the planet is going through are communication crises.
In line with the week's themes, the MED FORUM was dedicated to discussing how Model Forests can contribute to the development of youth entrepreneurship through nature-based solutions. Christophe Besacier (FAO - FLRM), one of the leaders of the collection of good practices for the UN Decade on Ecosystem Restoration, stressed how the model forest approach is in line with the objectives of this global challenge.
---
In relation to the privacy legislation pursuant to art. 13 of Legislative Decree 30/06/2003 No. 196, we inform you that the personal data we collect will not be transferred to third parties in any way and that they will be used for sending our. newsletter.

To unsubscribe from this newsletter, click here or reply to this e-mail by writing in the subject "Unsubscribe".‍