Newsletter n°82  25/03/2023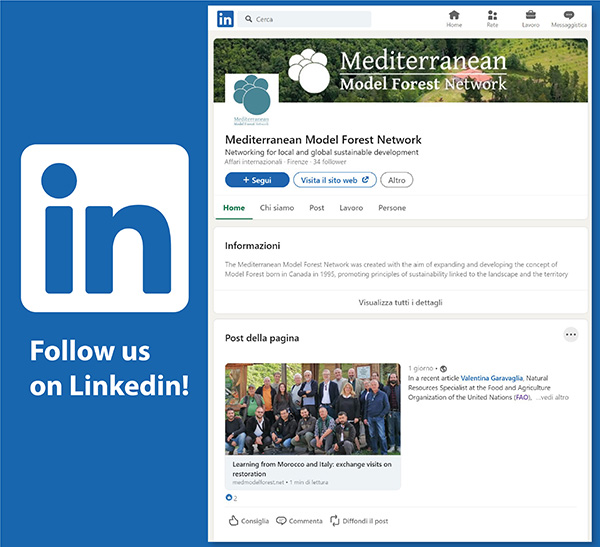 ‍

The Mediterranean Model Forests land on Linkedin!



‍The Mediterranean Model Forest Network is now also on Linkedin!
Being a regional network, we decided to open this new space that will be dedicated to institutional communication and work opportunities.

Take a look at our page and help us to expand the Model Forest community!
---
MEDfoR Master Programme
Call for application 2023



The Master Degree Mediterranean Forestry and Natural Resources Management (MEDfOR) is a two-year world-class International Programme in the field of Forestry and Sustainability, implemented in 2012. It is the only program in Europe that simultaneously addresses the economic, ecological and social challenges of sustainable Mediterranean forestry and natural resources management.

MEDfor aims to build the next generation of leaders in forestry and natural resources, and public and private land management, with a special focus on the Mediterranean region.

The Programme is offered by a Consortium of top ranked Universities and the Mediterranean Model Forest Network takes part in one of the consultation panels together with several associated partners and stakeholders that come from other leading international research and outreach organizations in all scientific areas of interest to Mediterranean Forestry and Natural Resources Management.

The call has two deadlines: the first set on 15th of March for who applied to the scholarships, and the second, 30th April 2023 for all the other candidates (self-funded).
In relation to the privacy legislation pursuant to art. 13 of Legislative Decree 30/06/2003 No. 196, we inform you that the personal data we collect will not be transferred to third parties in any way and that they will be used for sending our. newsletter.

To unsubscribe from this newsletter, click here or reply to this e-mail by writing in the subject "Unsubscribe".‍