Newsletter n°35  25/03/2023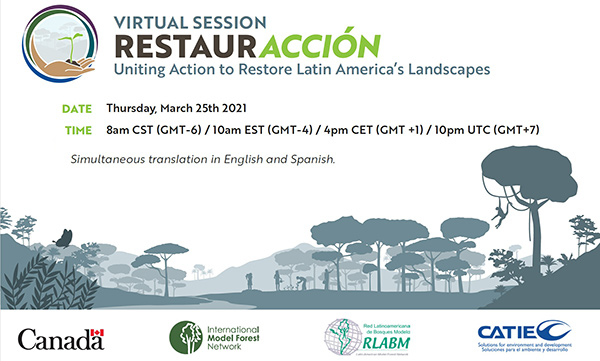 RESTAURacción - Virtual session



‍On Thursday, March 25, 2021 at 4pm CET (GMT+1) a virtual meeting will be held organized by the International Model Forests Network and the Latin American Network.
During the session you will be able to find out about the latest results achieved by the Model Forests of Bolivia, Costa Rica, Colombia, Ecuador, Guatemala and Peru regarding the restoration of Latin America's landscape.
Achievements and lesson learned concern:
promoting Gender Equality and empowering women and girls in ecosystem restoration;

establishing Forest and Landscape Restoration implementation plans in post-fire and degraded landscapes;

systematizing results for future opportunities.
The web event will have simultaneous translation in Spanish and English.

---
POSTDOCTORAL CONTRACTS for the promotion of excellence in spain


The Sustainable Forest Management Research Institute UVa-INIA (iuFOR) offers 5 postdoctoral contracts under the recognition as Unit of Excellence in the framework of the Regional Strategy for Research and Innovation for Smart Specialization (RIS3) of Castilla y León 2014-2020, co-financed by the European Regional Development Fund. The positions start in May or June 2021, with a contract for one year extendable up to three years. Deadline: March 31, 2021.

Young African Leaders Programme


The Young African Leaders Programme of the School of Transnational Governance provides a unique opportunity for policy experts from Africa to further develop their policy work and professional skills amidst international experts.

The three-month leadership programme will take place between September and November 2021 and places are fully-funded with a grant of € 2,500 per month.

The Programme is open to young female and male professionals, mid-career and executives alike, who are nationals of African countries, residing in Africa and are under the age of forty-five.

In relation to the privacy legislation pursuant to art. 13 of Legislative Decree 30/06/2003 No. 196, we inform you that the personal data we collect will not be transferred to third parties in any way and that they will be used for sending our. newsletter.

To unsubscribe from this newsletter, click here or reply to this e-mail by writing in the subject "Unsubscribe".‍