Newsletter n°39  25/03/2023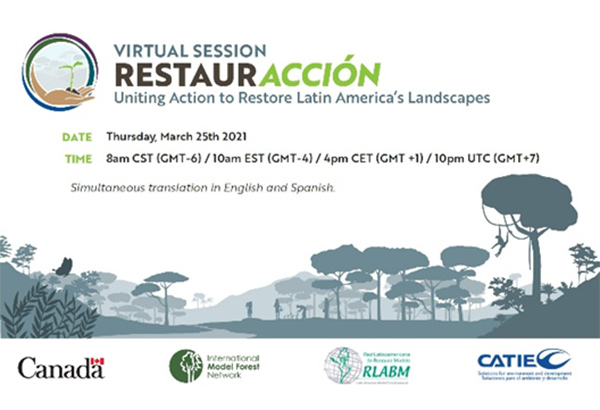 On March 25th 2021, the Latin American and International Model Forest Network Secretariat held the Virtual Session "RESTAURacción - Uniting Action to Restore Landscapes in Latin America".
The session highlighted the tremendous achievements and lesson learned through the RESTAURaccion Initiative on:
Empowering Women and Girls in Forest and Landscape Restoration activities;
Developing post-wildfire, Forest and Landscape Restoration plans;
Promoting Wildfire prevention and monitoring;
Building technical and scientific research capacities and;
Systematizing and exchanging knowledge.

A Spanish recording of the session, as well as more information regarding RESTAURacción, can be found on the International Model Forest Network's website.

---
Do you know the CityZen project?


CityZen porject responds to the growing number of cities and regions that recognize the benefits of urban farming for living sustainably and improving revenues. Therefore it aims to promote urban farming as a successful driving force for economic and social transformation by introducing the concept to policy makers.
Was held on April 19th and 20th the second CityZen Impact Workshop "Inclusive governance to foster Urban Farming. Dealing with land and space scarcity in cities".

Did you miss it? Don't worry, you can find the videos of the workshop on the project's youtube channel.
The Mediterranean model Forest Network was also presented at the workshop.

Final conference of INCREDIBLE poject


On 15-16 April, the INCREDIBLE project held its Final Conference: Building partnerships for innovation in Mediterranean non-wood forest products (NWFPs) value-chains, to explore and celebrate during 3 sessions the outcomes of the project with a special emphasis on the flagship initiatives and important achievements of each Interregional Innovation Networks (iNets). The session was broadcast open and live on the project website.

Did you miss it? Don't worry, you can find the videos on youtube chanel of the project.

In relation to the privacy legislation pursuant to art. 13 of Legislative Decree 30/06/2003 No. 196, we inform you that the personal data we collect will not be transferred to third parties in any way and that they will be used for sending our. newsletter.

To unsubscribe from this newsletter, click here or reply to this e-mail by writing in the subject "Unsubscribe".‍