The "FMMF Il Legno" brand was born in 2015 thanks to the Montagne Fiorentine Model Forest (in Tuscany, Italy) and the DEMOSCOPE project financed by the Tuscany Region, to give added value to local products, but also to transform a legal obligation into an opportunity.
The recent entry into force of Regulation 995/10 (EUTR) prohibits the commercialisation on the EU market of wood or derived products of illegal origin and provides obligations for operators, who market wood and products derived from it, to implement a mechanism of Due Diligence.
The Brand is registered, and has therefore been officially filed with the Ministry of Economic Development.
All the manufacturing companies (forest companies) that adhere to the brand (and therefore supply the supply chain with raw materials) and have signed the APROFOMO protocol, which protects the environment but also the work of the people, can use the "FMMF Il Legno" logo.
In addition to forestry companies, therefore, the brand can be used by sawmills, artisans, builders, traders... as long as the wood worked for the creation of the various products is traceable and the wood coming from the forests Montagne Fiorentine Model Forest, by legal and authorized cuts, made by companies adhering to the APROFOMO protocol.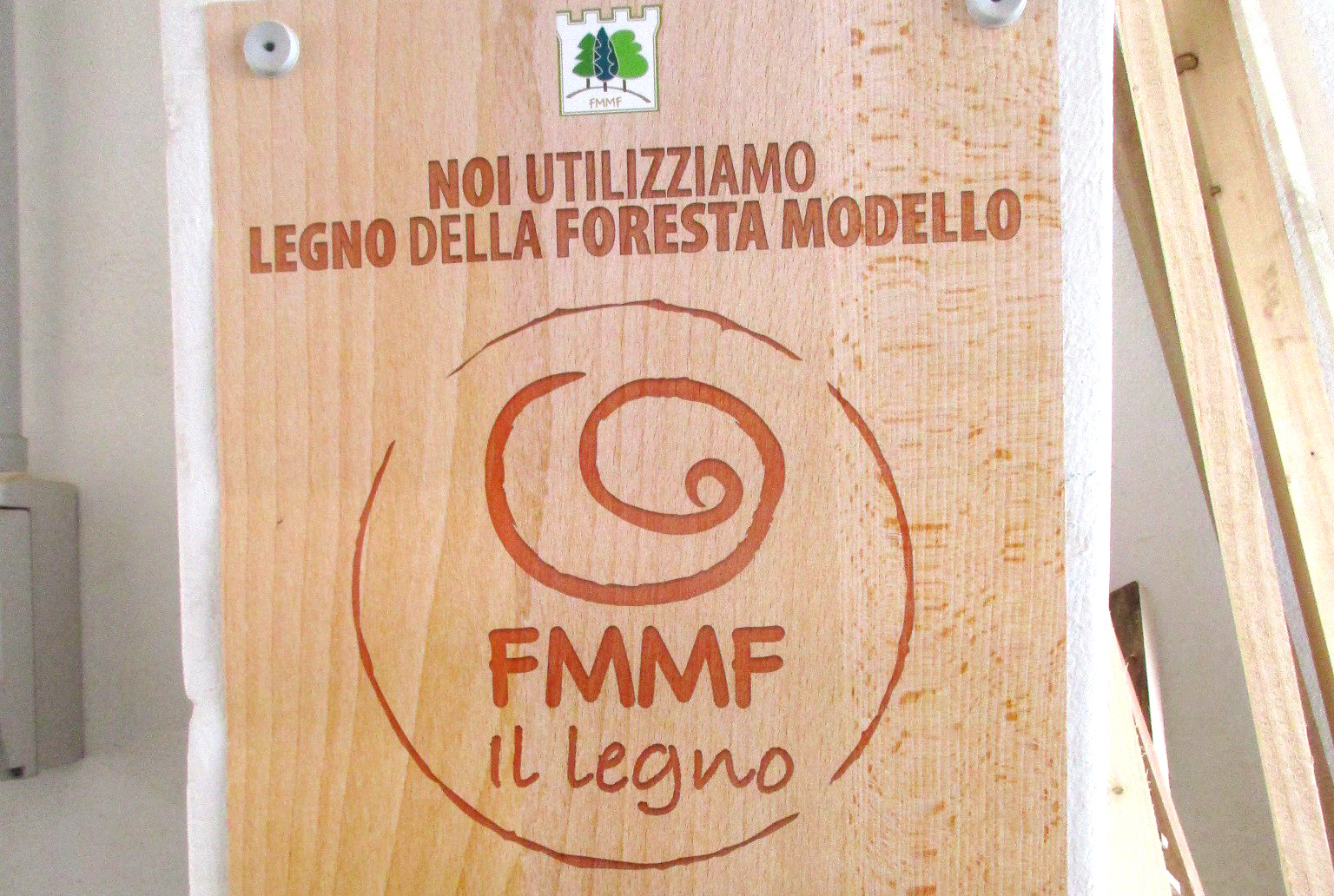 Demoscope Project - A brand to guarantee the origin of the wood
GOALS OF "FMMF il Legno":
Enhance the wood product of the territory in all its forms from firewood to the trunk, from the semi-finished product to the design object, ensuring its origin.
THE "FMMF IL LEGNO" BRAND GUARANTEES:
Local origin of the raw material
Branded wood must be cut inside the woods of the territory of the Montagne Fiorentine Model Forest: San Godenzo, Londa, Pontassieve, Rufina, Pelago, Rignano sull'Arno and Reggello (in Tuscany).
Sustainability and legality of production
Branded wood must derive from cuts that are regularly authorized and controlled by the Unione dei Comuni di Valdarno e Valdisieve, which are therefore sustainable, legal and respectful of the environment.
Health and safety of workers
Through the participation of operators in training courses on safety in the management of forest sites
The correct use of the logo is verified by a "management committee" which verifies the transitions and ensures compliance with the criteria. The management was initially headed by the Montagne Fiorentine Model Forest Association, which, thanks to a specific commission of members and experts, controlled the functioning of the Brand and regulated its disputes. The management of the "FMMF il Legno" brand was recently entrusted to BlueBiloba, an innovative startup and spin off of the University of Florence.
Services were then created, alongside the "FMMFM il Legno" brand, aimed at implementing the project and development of the local timber market:
It is a service created to help forest owners manage their forests efficiently, effectively and sustainably. Thanks to the network of associates of the Montagne Fiorentine Model Forest (forestry and technical enterprises), the association is able to offer a complete package of management of the forest plot:
- Checking the state of the forest and the actual possibility of use
- By agreeing with the owner the type of silvicultural intervention and the price level it could obtain
- Finding a forest technician able to plan the intervention, follow all authorizations, estimate the quantity of retractable timber and direct the cutting works
- Finding a professional forestry company that can carry out the work according to current regulations and environmental and safety standards for operators guaranteed by the APROFOMO protocol
COMMUNICATION AND PROMOTION FOR MEMBER COMPANIES
The Montagne Fiorentine Model Forest Association, through its members who are experts in various aspects of communication and marketing, is able to provide producers adhering to the "FMMF Il Legno" brand, at a discounted price, a consultancy, design and implementation service for :
Company websites
Printed information material (posters, catalogs, brochures, stickers, labels, packaging)
Multimedia information material (videos, infographics, newsletters)
CLASSIFICATION OF MACHINE WOOD
It is a service specifically dedicated to small and medium-sized sawmills and industries to classify local timber for structural use by machine