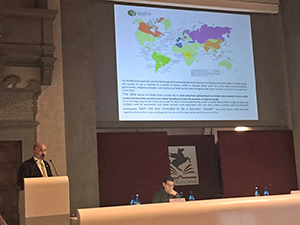 The H2020 ROSEWOOD project has developed a broad European network for the transfer of Best Practices and innovations in sustainable wood mobilisation. In January 2020, the final event of the Project was held in Florence, in conjunction with the Forest Innovation Workshop, where the set objectives and the results achieved by Rosewood were reported.
The Mediterranean Model Forest Network was one of the organizers of the final event, thus supporting the Rosewood project. This is because the main criterion of the Rosewood project, namely sustainability and that means there is a balance between economic and ecological aspects, putting the sustainable future of forests at the heart of wood mobilisation actions, is fully shared by the Mediterranean Model Forest Network mission.
The Rosewood project has ended, but the network does not stop there, in fact development is underway for the Rosewood 4.0 project!
For more information about the Rosewood project you can visit the Rosewood website, or download the material related to the Final Conference